Introducing, the SinkTastic, a perfect complement to the Amazing Acrobatic Sprayers. A combination sink strainer and stopper, the SinkTastic is available in a choice of five popular colours (blue, green, white, black, and silver). The SinkTastic beautifies your kitchen sink, and covers up that unsightly steel drain hole.
Made of flexible thermoplastic and infused with fresh fragrance and germicide, the SinkTastic fits all kitchen sinks and garburators.
There's absolutely no plumbing required. Simply drop the SinkTastic in your sink!
blue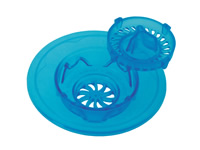 green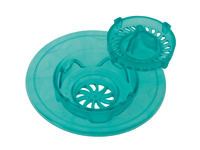 white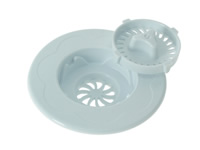 silver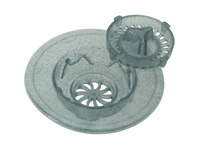 black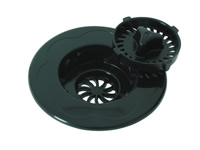 You can see instantly whether SinkTastic is open or closed. No more guesswork, as with old-fashioned sink strainers. To plug the drain, simply nest the stopper in the bottom of the SinkTastic to fill up your sink. When the open drain position is required, simply lift the strainer inside and place it in the slots in the stopper. It's that easy!
Get rid of that ugly metal basket strainer once and for all with SinkTastic!
The SinkTastic is available at most Bed, Bath and Beyond locations in Canada and the United States.